Doug's Place Flashback: Remember this post?
Mary's Twitter page is still active as of this writing, but no new tweets since 2018.
Meantime, this happened…
…Serra William of Kansas City, Kansas, friended me on Facebook today. In trying to make small talk with her on Messenger, I noted I'm a native of Wichita. The Kansas chat didn't go very far. Neither did the regional initialism of KCK.
As we chatted, I realized she looked familiar. A look at another photo on her profile…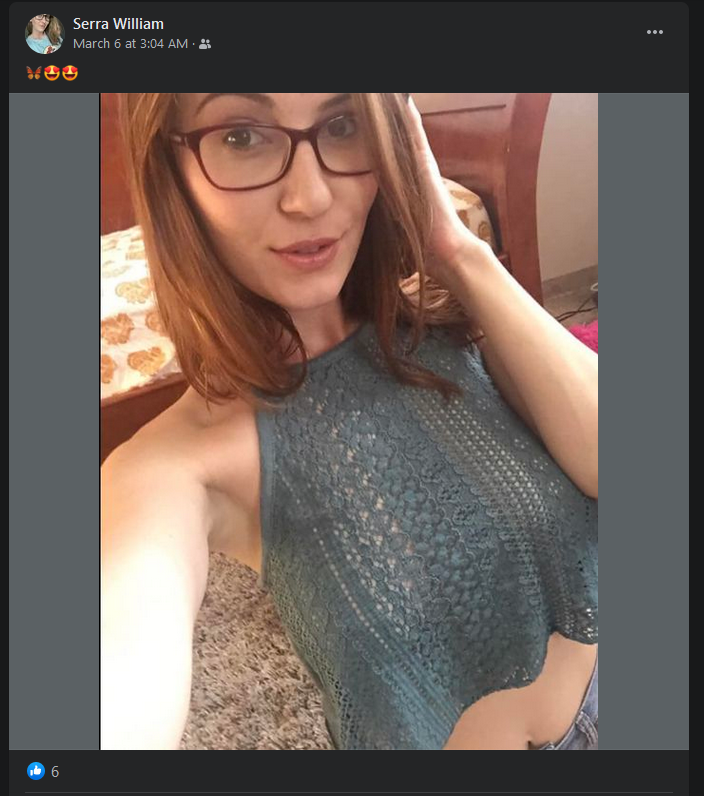 …made me recall the fake Twitter account of 2018. Getting some ten-year-old, but still valid, intel about fake online dating profiles from a YouTuber, I did a Google Images search of the above photo. The search lead me to a lady named Amber Hahn.
"Amber". I remember the name "Amber". She said the name "Amber" in that Twitter video from 2018 — even though the Twitter account indicated her first name was Mary. I "confronted" Mary about the utterance of "Amber", and she quickly brushed me off.
So, guess what? I confronted Serra and asked, "Has anyone ever told you that you look like Amber Hahn, the internet personality?" (Honestly, folks, I don't know much about the real Amber beyond that.)
Serra's response: "No".
My follow-up response: "These show up on Google searches…"
…and "these", indeed, are a cross-reference of "Amber Hahn" in another visual search of Google. Notice how the photo of Amber in the light blue shirt at the top of the left column (complete with the circular yellow Buc-ee's logo) matches the one of Serra in her profile pic in the earlier example image of this post.
Serra deflected confrontation as best as she could — changing the subject and asking personal questions such as my age, marital status, etc. Before things got too personal, I took a page from "Match Game".
Doug's Place Flashback: For those who've lived under a rock, the objective of the classic TV game show "Match Game" was to match celebrities' answers to silly fill-in-the-blank questions. Celebrities would write their answers on cards, and, after the civilian contestant offered an answer, the stars would reveal their cards to the camera one by one. Depending on the version, the civilian would be awarded at least one point or some money (more likely the former) for each match.
So, based on that concept, I showed this to Serra…
…I then told Serra if she wanted to converse with me any further, she had to duplicate this effort to prove to me she's real. She had to take a piece of paper, write down "HI, DOUG" on it, have that message in front of her mouth, have her hand also in the shot, and send that selfie back.
Has she obliged? As of this writing, no. She's done a good job of waffling, though.
I don't mind telling you I've pulled off similar feats with no less than seven other fakers. At least three tried to duplicate the "HI, DOUG" bit — but were quickly called out for sending fake images. I've been a web designer and social media manager for years. I can spot PhotoShopping and similar tactics a mile away. They end up heading for the hills while deleting their accounts after they were called out. Per Google Image searches, most of those fakes steal images from porn stars.
One fake managed to steal images from a real Facebooker who just happens to wear the uniform of our country (best to say nothing further about the real Facebooker). After this writer's long and detailed investigation (about two or three months), the faker urged me to go to the store and buy her a Vanilla Card. From there, she'd probably borrow hundreds, even thousands, of dollars I'll never see again.
"Before I go to the store and buy you a card," I said in Facebook Messenger, "please explain why you've been stealing the images of (real person's name intentionally deleted for said real person's safety)." I accompanied my inquiry with a screenshot of the real person's Facebook account, pinpointing to an image the faker clearly stole.
The faker's response: "F**k u and go to hell." The faker's profile's deletion immediately followed — likely per the faker.
Gosh, was it something I said and/or did? I'm so sorry I'm taking (potentially) ill-gotten funds away from your grubby little hands, Little Miss Faker.
If you believe my apology is sincere, I have ski resorts in Kansas City and Wichita, Kansas, I'd like to sell you.